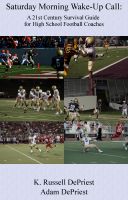 Before the summer 7-on-7 season kicks off in a couple of weeks, we thought we would highlight the retailers currently carrying Saturday Morning Wake-Up Call. The book is carried by all major (and some minor) retail outlets. As always, we recommend purchasing the book from
Smashwords
for a few of reasons: (1)
Smashwords
pays us higher royalty percentages; (2) When you purchase from
Smashwords
, you can switch eBook eco-systems without having to buy your books again (you own the book, but you don't have to use a Kindle, Nook, etc.); and (3)
Smashwords
supports independent authors in ways not found at the other big book sellers. In any case, we are happy with any purchases. Here are the links for the eBook pages for these retailers:
Saturday Morning Wake-Up Call
is also available through these "Netflix for eBooks" type apps:
We have enrolled the book in the "Kindle Matchbook" program with Amazon. If you buy the print edition through Amazon, then you can buy the Kindle
edition of the book
FREE. If you choose to buy from another retailer, then let us know. We will send a gift copy of
Saturday Morning Wake-Up Call
from
Smashwords
.