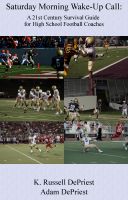 For all you last minute shoppers,

w
e are providing special Christmas prices for our eBook "
Saturday Morning Wake-Up Call
" at
Smashwords
. If you have a coach or football fan on your list, here are the deals we have for you:
100% Off (FREE) Until Dec. 18
75% Off (Cost - $0.99) Until Dec. 24
50% Off (Cost - $1.99) Until Dec. 31
25% Off (Cost - $2.99) Until Jan. 31
Our book is normally $3.99, but you can use the coupons along with the "Give as a gift" feature at Smashwords to reduce your shopping bill for Christmas. "Saturday Morning Wake-Up Call" is also available from many other eBook retailers including Barnes & Noble, iTunes, and Sony. Here are the links to the book pages at the various retailers:
https://www.facebook.com/SaturdayMorningWakeUpCall
*** ~~~ ***
Review of "Saturday Morning Wake-Up Call" at Smashwords
Review by: Lonnie Martin on Dec. 09, 2012:


The authors understanding and description of high school football was deeply educational, even without the statistics tutorial. If high school coaches read this book, understand its points and apply its lessons I believe that they will become more successful. If you are not a coach I think you will still find the story told in the book to be very interesting.
*** ~~~ ***
Finally, we are a part of
Operation eBook Drop
. The indie authors in this program give away their eBooks to active duty service members. If you are in the service and would like a copy of our book after the free book deal above expires, please send us an email at
arkansasfootballbloggers@gmail.com
. You can also sign up at the Operation eBook Drop Facebook page to receive free books from almost 1500 indie authors. Finally, if you have a friend or family member that is serving, let them know about this program (and our book). We will be sure to send them a free copy.